Choosing a company that will cover a modified car insurance can be tough. The definition of 'Classic' or 'Custom' or 'Modified' vehicles can vary from one insurance company to another. Sometimes it is defined by the year, the condition or if the frame or engine has modifications.
How do Insurance Companies Typically define a Classic Car?
A classic car can be defined as a vehicle older than 15 – 25 years that is as close to factory original as possible.
One of a kind vehicles, kit cars, and reproduction vehicles could be classified separately as "Custom Vehicles" and require a special policy. Custom vehicle policies do not come with age restrictions, but may include guidelines on what percent of a vehicle needs to be modified to be considered custom. However, most mainstream classic car insurance providers recognize a variety of vehicle classes that allow these and other types of specialty and exotic vehicles to all coexist on the same policy, with the same coverages and limits.
Additionally, There may be in-between vehicles, sometimes referred to as Modified Classic Cars. these are old enough to be a classic vehicle, were built in the factory, but have been modified or customized greater than a percent of the value of the vehicle.
Many Modified Classic Cars will only be customized in one area, they may have a performance engine but a classic factory interior or they may have a one of a kind paint job with a classic engine and interior.
Regardless of the specifics, some classic car insurers are less concerned than others about modifications. In all cases however, the essential thing for the collector to do is to disclose the modifications and let the insurer class the vehicle properly so the modifications will be expressly covered - just like the stock parts - and there is no concern over coverage eligibility.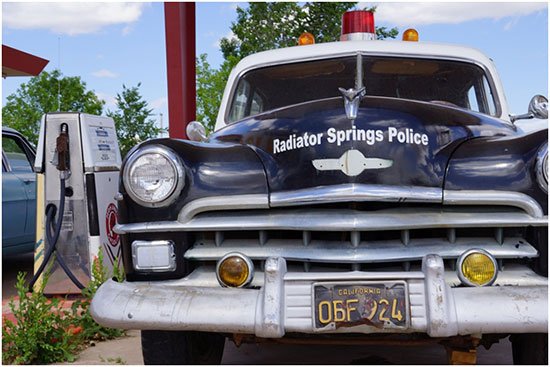 Do Classic Car Policies cover everything necessary to be Road Legal?
Some insurers only cover the physical damage to your classic car on the classic car policy. Others cover both your vehicle and your legal liability.The former case is very rare unless the car is unregistered.
Find out if the quotes you receive have Liability (you hit someone else), Uninsured Motorist (someone without insurance hits you and hurts you)coverages and verify that the policy limits are the same that you carry on your other vehicles.
If you have an excess liability policy or umbrella policy, call your agent and verify that they will accept the collector car policy as an underlying policy without surcharge. Better yet, ensure the information you are told is correct by reading the Underlying Coverages section of your Umbrella – the terms for accepting a third party policy are listed there and definitive.
Are there mileage or use limits placed on Classic Car Policies?
Many insurance carriers will place a limit on a classic car policy that the vehicle can not be driven more than 3,000 – 5,000 miles per year. Is that adequate for you? Can this mileage be increased (which costs more) or decreased (which saves you money) if you seldom drive the car?
All classic car insurers also limit how you use the vehicle.At the least, they require 'use consistent with owning a classic auto' or similar. That means no errands around town, or commuting (some will let you buy back into commuting with an endorsement). They may restrict coverage if the vehicle is used in performance competitions, road and track meets on public roads. Make sure the exclusions don't matter to you in how you already use your car. You should never buy a policy that excludesactivities you engage in!
Specialty Coverages
Towing and Roadside Assistance services included in classic car insurance may guarantee a rollback with soft nylon straps and assist in locating a shop that can work on your special vehicle. If you travel with your specialty vehicle away from your home having a national network or towing companies and repair shops at your finger tips can be a wonderful resource.
Coverage for hotel, food, and incidental expenses if your vehicle breaks down away from home at a car show and you have to wait on parts to come in is another perk often included in specialty vehicle policies. While these perks are not things you will use often, if you do travel with your vehicle having your insurance company dealing with the hotel, rental car, dinner expensesinstead of you can make a tough day easier.
How do Insurance companies Value Vintage Vehicles?
The standard auto policy offers coverage for your vehicle at Actual Cash Value, meaning that the policy would pay you the value of a standard vehicle without any modifications. This coverage is woefully inadequate for classic and collector cars.
An "Agreed" or "Guaranteed Value" policy covers your vehicle at a value that you and the insurance company agreed upon prior to purchasing the vehicle. This valuation is designed for unique vehicles to protect the consumer.
Stated Value is a once-popular valuation for classic cars that has fallen well out of favor with the proliferation of Agreed Value Insurance policies over the last few decades. These policies allow you to choose the amount of insurance you want on your vehicle. Unlike Agreed Value, where the Agreed Value is the amount you will be paid after a total loss, Stated Value is simply used to determine how much you pay in premium. When it comes time to pay a claim, the insurance company pays you the Stated Value or the Actual Cash Value… whichever is less. In many cases stated value policies are less to purchase than Agreed value but remember they do offer significantly less coverage.
Stated Value can be a valuation compromise if you inherited your vehicle and are not interested in recouping the replacement value of the vehicle but still want it to be insured at a fair value. However, an Agreed Value is always better – even if it's a lesser value – since with Stated Value the insurance company has no obligation to pay any attention to said value when it comes time to decide what to pay you.
Some insurance carriers will offer a standard actual cash value policy with customized equipment coverage. These policies can be less expensive, but the coverage will pay for your vehicle and the customization or custom equipment at the cost to replace it minus the depreciation.
Placing a value on a 2019 Nissan Maxima is easy, pick up the paper and look at car ads or look in the Kelley Blue Book. Valuing a classic vehicle such as a 1970 Chevrolet Corvette with a performance-built engine, one of a kind paint job, and restored interior requires a value to be agreed upon and careful documentation of the value.
On a stated value policy it is important that you keep careful records of the value of your vehicle. An annual appraisal could be an option. Since with an Agreed Value policy the payment of the Agreed Value is etched in stone, contractually, there is no need for appraisals once the value is accepted by the carrier and the policy is written. Further, most specialty insurers take it upon themselves to re-value your vehicle at intervals… they may approach you for an increase or decrease annually as the market fluctuates. To do so is best for everyone involved and specialty insurers are accustomed to value changes that are reflective of the current marketplace (and since the rise of the internet, auction prices and even many private sales are widely available and easily obtainable).
Dyno records, Concours Judges' receipts and similar show records can help prove the condition of your vehicle, along with very detailed photos of the interior, exterior, engine bay, wheels, and underbody are important to prove the condition. If you have a Stated Value policy, its best to keep a copy of your valuation information in a fireproof safe. You may need it desperately someday.
If your insurance company does require an appraisal, there are some steps you can take to ease the process. As you think about your value of your classic car and get ready for the appraisal gather all of the receipts and documentation of parts purchased or work you have had done on the vehicle. If you do the work yourself make sure the valuation includes the cost of a mechanic, in the event of an accident you may not be able to repair your own vehicle.
Many consumers often forget about the value of restoring their wheels. If you restored the wheels on your vehicle, make sure you keep the receipts and maintain documentation of the condition of the wheels
If you have custom wheels or aftermarket wheels keep receipts for the entire set. Find out how the insurance company would handle replacing only one wheel if the entire set isn't damaged. Would they replace it with something close in appearance if it can't be repaired or an exact match sourced? Replace the entire set so they match?
Does your vehicle still have an original factory paint job? Find out how the paint would be sourced for repairing or if the company would pay for the entire vehicle to be repainted
Have an aftermarket paint job in a tough to find color? Have a hand drawn one of a kind airbrushed paint job? Properly valuing your paint job isn't just about the paint, make sure you include the value of the artist to draw the designs again, the airbrush artist, booth rental. Many times, the miscellaneous costs get forgotten and they can add up to a total loss claim.
Fairly valuing the engine is not just about the performance parts. Remember the chrome or custom paint. Make sure you have a current dyno for the engine to prove the performance
When you value your engine include any custom parts machining.
Are there Requirements for where a vehicle is stored?
Some companies require vehicles to be stored in a locked, enclosed garage. Some require covered and fenced at a minimum. Verify the policy clause and that your storage space is adequate. If you have to rent storage space for your vehicle your insurance company may need photos of where the vehicle is stored and proof of how it is stored.
Verify if you drive the car to a show and it's damaged in a hotel parking lot the following night or stolen from Walmart when you run in to get snacks for the show that it will be covered.
Not all companies cover vehicles in tow on a car trailer towed behind your private vehicle. If you tow your vehicle to shows or events, make sure your policy covers the vehicle while it is on your trailer or a friend's trailer.
How does one choose a company to insure an Antique or Classic Car?
The most important considering when choosing an insurance company is the policy terms – do they fit your needs and give you the coverage on your vehicle to protect you? Also consider the financial strength of the company, if it is a non-admitted or admitted carrier, cost, if you are purchasing through an agent or online are important considerations.
Ask detailed questions about the policy terms and guidelines. The insurance company or agency should provide you with a copy of the policy terms before you purchase. Read them carefully and ask for clarification on any differences in verbal promises or information on the quotes. If the agent or company assures you that what they are telling you is correct make sure you have documentation in writing and keep it with your policy.
You can check an insurance company's financial grade through A.M Best. A.M. Best rates insurance companies much like the health department rates your local restaurant. You want to verify that the insurance company is "A" rated and that the financial outlook is not negative.
As you get quotes you may hear different terms like "admitted" and "standard carrier" or "non-admitted" and "Excess Lines carrier". Admitted carriers are insurance companies licensed by your state's insurance department, non-admitted carriers are insurance companies that are not governed by your state's insurance department.
Admitted carriers are governed by the state laws and participate in a guaranty fund that would pay claims if the insurance company becomes insolvent. The department of insurance in your state can become involved and require specific performance, or even sanction them if they determine the company is acting against the public interest, in violation of statute or is in some way not adhering to the insurance contract.
Non-Admitted carriers are insurance companies that do business in states without going through the same approval and oversight process. They have greater flexibility in the policies they can write, but in states that have them, there is no guaranty fund if they become insolvent.
One of the largest specialty insurers in the world, Lloyds of London, is a non-admitted carrier. It doesn't mean that the carrier is not a quality insurer or that they can't pay their claims.
The choice between non admitted and admitted should come down to financial strength, policy terms, AM Best rating, and competitiveness of price.
If you have a multi-million-dollar high value custom vehicle that is essentially a piece of static art, is never driven and kept on display in a shopping mall,a non-admitted specialty company like Lloyd's of London will have more experience covering one of a kind situations. If you have a classic vehicle, and particularly if you want to be able to drive it on public roads, an admitted company that specializes in classic vehicles will give you the best coverage. Almost all consumers will never have any reason to even look at a non-admitted carrier, and in fact many states require your agent to be declined in writing from at least two admitted carriers before they are even allowed to consider a non-admitted option.
Finding a local agent with classic car experience can make the process go smoother. An agent will know and understand the policy, can help you assess your vehicle and classify it, help you understand terminology, and be an advocate for you if something happens.
There are few things more fun than tinkering with a classic car, taking it to a show, and enjoying introducing a new generation to the fun cars we grew up with. Protecting your vehicle and your liability can be challenging, with any hobby or specialty product it is important that you understand what you need to protect and how best to protect you!
Popular Questions:
What is Agreed Value and Stated Value?
Featured Image Credit:jill111/ Pixabay
In Post Image Credit: goldie1802/ Pixabay