The Right Seat
Safety Seat Information For Families
Along with the joys of parenthood come some pretty serious worries. One worry most parents share is how to keep their children as safe as possible when in an automobile.
Automobile accidents are the leading cause of death for children in the United States, a tragic fact that's led federal and state governments to enact laws that require children to ride in specially engineered car safety seats at all times. As automobile safety in general has improved, so has the overall rate of survival in car crashes but one of the most beneficial safety features in the car - its air bags - can produce devastating outcomes for the smallest passengers. Every car safety seat is engineered to protect the child passenger from harm from the impact of a collision and from the effect of the vehicle's air bags if they become deployed on impact.
Types of Car Safety Seats at a Glance

A REAR-FACING CAR SEAT is the best seat for your young child to use. It has a harness and in a crash, cradles and moves with your child to reduce the stress to the child's fragile neck and spinal cord.

A BOOSTER SEAT positions the seat belt so that it fits properly over the stronger parts of your child's body.

A FORWARD-FACING CAR SEAT has a harness and tether that limits your child's forward movement during a crash.

A SEAT BELT should lie across the upper thighs and be snug across the shoulder and chest to restrain the child safely in a crash. It should not rest on the stomach area or across the neck.
The back seat is the safest place for a child to ride, at least until s/he turns 13. Until then, safety depends on the child's weight, height, and design specifications of the car safety seat being used.
Buckle Up to Grow Up: One Step at a Time / University of California-Davis Health System Trauma Prevention and Outreach Car Seats & Booster Basics / Parents Central
Child Safety Seat Chart (pdf) / Rhode Island Prescription for Safety
Motor Vehicle Safety: Car Seats, Child Passengers, and Teenage Drivers / University of Michigan Health System / Your Child Development & Behavior Resources
Infant Seats

A child's very first ride in a car, the ride home from the hospital where it was born, needs to happen in an infant car safety seat. Babies should ride in seats specially designed with infant safety in mind until they reach one year of age AND they weigh 20 pounds or more. The infant seat needs to be securely installed in the back seat facing the rear of the car and must be designed for infants only.
Car Seats for Children: Birth to 12 Months / National Highway Traffic Safety Administration
Choosing Safe Baby Products: Infant Seats and Child Safety Seats / KidsHealth
Busy parents can easily become so distracted with hectic schedules, juggling jobs and family, adjusting to parenthood, and learning how to be the best parent possible that it's easy to overlook the obvious. In many a heart-breaking situation, the obvious thing overlooked is the baby asleep in the back seat. Older kids are going to let it be known how anxious they are to get out of the car but babies often get lulled into deep sleep by the motion of the car and the cozy comfort of their car safety seat. Even awake, they can't yet remind a parent that they're back there.
A baby forgotten in the car is an embarrassment at best but it could be a life-changer, too. Outdoor temperatures don't have to be very high to heat a car's interior hot enough to harm or kill a baby in a shockingly short amount of time. An infant won't survive very long when temperatures drop in the wintertime, either.
The Last Word: Forgotten Baby Syndrome / The Week
Toddler / Preschooler Car Seats

Once they're a little bigger, kids can move up to a seat that accommodates a growing toddler's body. Many car seats designed for children in this range are convertible - able to be installed in a rear-facing position in the beginning and then converted to a front-facing position once the child is bigger.
The safest seats will have a 5-point harness, allowing the parent to strap the child firmly to the seat in five positions - at each shoulder, at the outer side of each hip, and between the legs - rather than at just three points - at the shoulders and between the legs. Some models come with a rigid hardness that raises up, allowing access to secure the child in the harness, and then swings down to become firmly fixed into place at the child's waist.
Safety Seats for Your Toddler / The Children's Hospital of Philadelphia
School-Aged Children

Once a child outgrows the toddler-size seat, it's time for a booster seat. The time to make the change depends on the child's height and weight, not his age although age 4 is about the time most children transition from a harness-type seat to a booster. All booster seats face forward and are designed to use the car's seat and shoulder belts to secure the child in the booster.
The booster safety seat is designed to be used until a child becomes at least 4' 9" tall, which typically happens between the ages of 8 and 12. Even after the booster seat is outgrown, the back seat is the safest spot in the vehicle for pre-teen children. After "graduating" from car safety seats, every child must be securely buckled up with the shoulder and seat belts every vehicle is equipped with.
Booster Seats Are For Big Kids - That's YOU! (pdf) / New York State Department of Health
Car Safety Seat Installation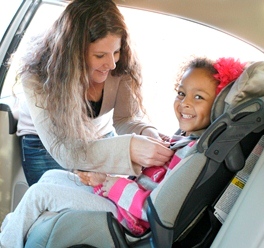 Car safety seats work best when they're properly installed, locked into place, and kept there. Some of them are designed to be used in conjunction with baby carriages but that means correct installation procedure must be followed every time the child gets back into the car and, while installation may appear easy, it's almost always done wrong. That's right. Two out of every three car safety seats is not installed correctly.
An incorrectly installed car safety seat compromises the child's safety no matter how old the child. Correct installation is so vital to the purpose of the seat that every manufacturer includes correct installation instructions with every car seat sold. To be absolutely certain every car safety seat is installed correctly, most states have certified Child Passenger Safety Technicians (CPS Technicians) available to install car safety seats or inspect the installation a parent has done. In some locations, police stations and fire houses serve the community as Child Seat Fitting Stations for the same purpose.
7 out of 10 Kids in Child Safety Seats Are Not Properly Buckled In / SeatCheck.org
Car Seat Safety: A How-To Guide from AAA
Common Errors / Car Seats Made Simple
Convertible Car Seats / Consumer Reports
Five-Point Harness or Shield - Choosing a Safer Seat / CP Safety
Lower Anchors and Tethers for CHildren (LATCH) Restraint System / Traffic Safety Marketing
CPS Technician Certification / National Child Passenger Safety Board
Shopping for Car Safety Seats

The very best car safety seat is all about the fit, not the price tag. The seat must fit the child and the car in order to work as designed. The same safety standards apply to inexpensive car seats as apply to trendy designer seats so don't let cost be your guide.
Whenever budget allows, buy new car seats. They come with installation instructions, warranties, and the highest degree of structural integrity possible.
If a used car safety seat is in the plan, make sure the seat's history is well documented. Avoid hand-me downs or second-hand car seats that have been in any kind of crash, even minor fender benders. A flaw that's hidden, too small to see, or that seems insignificant can cause the car seat to shatter during a high-speed impact.
Defects happen in the factory, too, so be mindful of factor recalls before buying used car safety seats or car seats still in the package but sold at flea markets, from online auctions, or any other vendor who will not honor a warranty or return policy.
Comparison of Infant Car Seat Grip Orientations and Lift Strategies (pdf) / Applied Ergonomics
Used, Expired, and Crashed Seats / Be Seat Smart Program, Vermont
Additional Resources
Car Safety Seats Are Forever . . . Aren't They? Doernbecher Children's Hospital, Oregon Health & Science University
FAQ: California's New Child Passenger Safety Law / California Highway Patrol
In and Around Cars / Safe Kids Worldwide
Policy Statement -- Child Passenger Safety (pdf) / Pediatrics: The Official Journal of the American Academy of Pediatrics

Article by
Matt Robertson
Matt is the Managing Partner at Leland-West Insurance Brokers, Inc. He started with the firm while still a college student, way back in 1984. According to Matt his only remaining hobby is Motorsport ... because its all he can afford ("will work for tires"). Reach him at
matt@lelandwest.com