Image Credit: GarysLens / Pixabay
Cars are recycled by breaking them down into their parts. The metal is then separated from the plastic and glass, melted down, and reformed into new car parts. The plastic and glass are recycled into new materials that can be used to make other products.
What is the Average Number of Vehicles Recycled Each Year?
The average number of vehicles recycled yearly has steadily increased over the past decade. This is likely due to factors such as the increasing awareness of the importance of recycling and the availability of more recycling facilities. It is estimated that over two million vehicles are recycled annually in the United States alone. This number represents a significant portion of the total number of cars disposed of each year, estimated to be around 11 million.
How is Vehicle Recycling Done?
The process begins with removing combustible materials, such as gasoline, oil, and other fluids. Then the vehicle is dismantled and crushed. The metal from the car is sold to scrap dealers who melt it down and recycle it into new products. The remaining auto parts are sold to auto parts stores or salvage yards.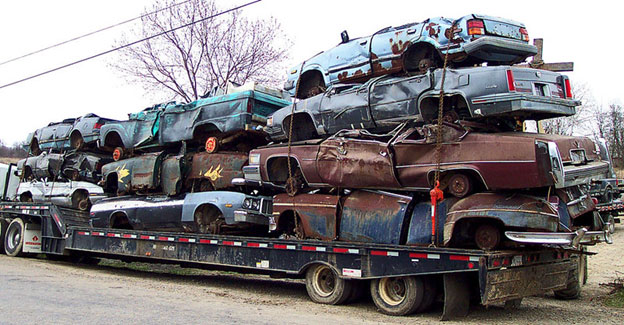 Image Credit: Don O'Brien / flickr
Where Do the Recycled Parts of a Car Go?
When a car is recycled, its parts are sent to different facilities for processing and reuse. Recycling begins with removing functional components, like the engine, transmission, and doors. These parts are then cleaned and inspected before being sold to customers who need replacement parts for their vehicles. The rest of the car is shredded and separated into different materials, like metal, glass, and plastic. These materials are sold to companies that will use them to create new products.
Are Metals the Easiest Parts of a Car to Recycle?
Yes, metals are the easiest parts of a car to recycle. There are different types of metals in an automotive, including steel, aluminum, and copper. All of these metals can be recycled and used to make new products. Almost all scrap metal can be recycled - even the ones used in a car for years.
Does Removing Oils and Batteries when Recycling a Car Save the Environment?
When recycling a car, it is important to remove all oils and batteries before sending the car to be shredded. This helps to protect the environment from harmful chemicals and toxins. Oils and batteries can release harmful chemicals into the environment if they are not properly disposed of. Removing these items from the car before it is recycled helps ensure that these chemicals are not released into the air, water, or soil.
Batteries, in particular, can contain lead and other heavy metals that can harm human health and the environment. Properly recycling batteries can help prevent these harmful substances from entering the atmosphere. Besides protecting the environment, removing oils and batteries from your car before recycling can also improve the efficiency of the recycling process. Facilities can recycle more materials when they do not have to deal with hazardous substances.
Are Vehicle Glass and Tires Recyclable Too?
Yes, both vehicle glass and tires are recyclable. Recycling these materials is important for conserving resources and protecting the environment. Glass can be recycled into new windshields, windows, and other car parts. The recycling process involves crushing the glass and melting it down so that it can be reformed into new products. Tires can be recycled into new tires, tire treads, and other rubber products. The recycling process involves shredding the tires and grinding them down so that they can be reused in new products.
Are Plastics also Recyclable?
Yes, vehicle plastics are recyclable. Most plastics can be recycled, including those used in vehicles. The recycling process for plastics begins with sorting the different types of plastic by their resin type. This is because various resins melt at different temperatures, so they must be processed separately. Once the plastics are sorted, they are chopped into small pieces and fed into a furnace, where they are melted down. The molten plastic is then poured into molds to create new products. These products can be anything from new vehicle parts to bottles and other containers.
What About Engines?
Vehicle engines can as well be recycled. The recycling process usually involves dismantling the engine and separating the various metals and materials. The metals are then sent to a metal recycler, while the other materials are sent to a landfill or incinerator. Some engines are also rebuilt and sold as used engines.
How Does Recycling Vehicles Impact the Environment?
Recycling vehicles can have a positive impact on the environment. For example, it can help reduce the amount of waste sent to landfills and incinerators. Recycling vehicles can also help save energy and conserve resources.
Overall, proper recycling of vehicles can be beneficial to the environment. However, there are also some potentially negative impacts of recycling vehicles. For instance, if cars are not recycled properly, hazardous materials such as lead, mercury, and oil can be released into the environment. The recycling process itself can generate air pollution and water pollution.
Will Recycling of Electric Cars Pose a Threat to the Environment?
As electric cars become more popular, their eventual disposal poses an environmental threat. The batteries that power electric vehicles are made of lithium, nickel, and cobalt – metals that are rare and difficult to recycle. In the United States alone, over 16 million cars on the road are powered by lead-acid batteries. When these batteries reach the end of their lifespan, they are often disposed of in landfills where the lead and other toxic metals can leach into the ground and water. However, some companies are working on developing recycling technologies for electric car batteries, even though the process is still very expensive and not very efficient.
Whether recycling a modern vehicle or restoring a classic car, it's important to consider protecting your investment with reliable, Affordable Classic Car Insurance. Get a quote for classic car insurance today!
FAQS About Auto Recycling
How does auto recycling work?
The recycling process of automobiles starts with the collection of spent or damaged vehicles from various sources, such as car dealerships, scrapyard, and insurance companies. Once collected, the vehicles are dismantled and their parts are sorted for further processing.
What are the benefits of auto recycling?
Some of the benefits of auto recycling include reducing pollution, preserving natural resources, creating jobs, and saving money.
What are some of the most common materials recycled from automobiles?
Metal, glass, plastics, and engines
How do I find a reputable auto recycling facility?
When looking for a reliable recycling facility, it is important to make sure the facility is properly licensed and insured. The facility should also be reputable and have a proven safety record.
What should I do with my end-of-life vehicle?
If your vehicle has reached the end of its life, you can sell it for scrap metal or donate it to a charity. You may also have it recycled so that its parts can be used to build new vehicles.