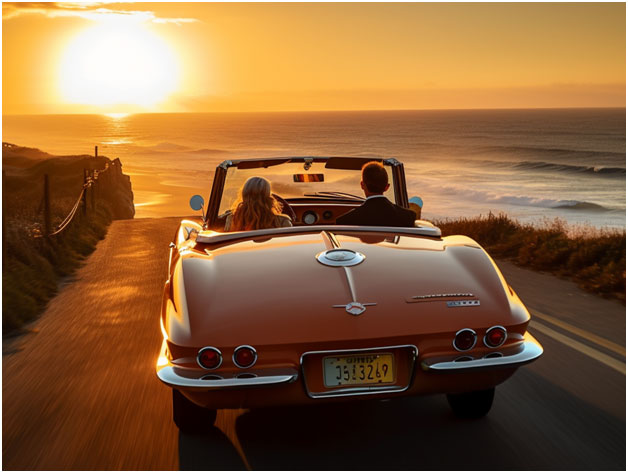 Image by LelandWest
A road trip is a good chance to get away and explore a different part of the country. A road trip in a classic car gives you the opportunity to connect with local history in an older, nostalgic vehicle. Consider a classic car road trip to be a car show on the road. We'll explore some of the best road trips to go on and what to do while you are on the road.
California Cruising on the Pacific Coast Highway
The Pacific Coast Highway stretches the entirety of the Washington coast down to California, and it is a beautiful trip to take in a classic car - especially with the top down. Our first suggestion for taking this particular road trip is to head south from Washington - if only because you'll get to be on the Pacific ocean side of the highway the entire time.
As for cities, head through Seattle, Washington where you have a large urban center and plenty to do. Then travel south to San Francisco where you'll be able to see plenty of history, find some beaches, and enjoy the beautiful sightseeing and weather before heading to San Diego, where the weather is always nice.
One of the best features of the entire Pacific Coast Highway is the natural beauty that connects big places with plenty to do, eat, and see. You'll experience straightaways in addition to rocky cliffs with gorgeous views of both big cities and the Pacific ocean. You won't be bored! We would recommend at least 5 to 7 days to ensure you have time to get out of the car and walk around and go to various museums and other places - and even though we are sure you love your classic car, you won't want to sit for that long!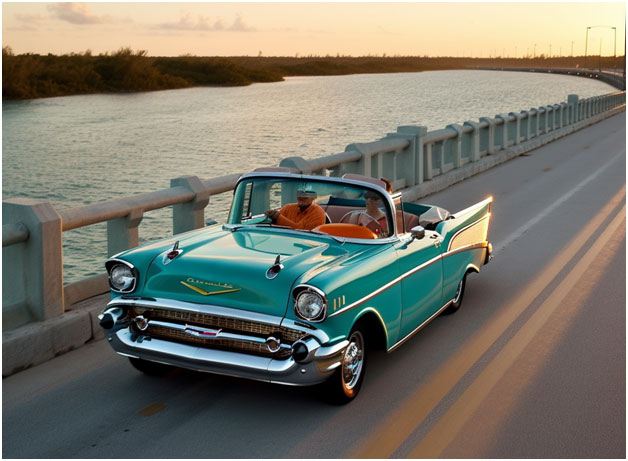 Image by LelandWest
Florida Keys
Assuming you start in Miami, the trip down the Florida Key isn't all that long at just about 3.5 hours, For the relatively short drive, the view is totally worth it. The Florida Keys route tends to involve crossing multiple bridges that extend off the Florida peninsula,
You could also say that you could still take at least a day or two to complete the drive. Once you leave the urban areas of Miami, time seems to slow down and you'll have plenty of opportunities to explore fishing villages and spectacular views of the turquoise water.
We have a couple of suggestions for you, especially if you are traveling with a convertible or "top-down" vehicle: Bring sunscreen and sunglasses. The majestic Florida weather can burn your skin pretty quickly, especially if you aren't from the area, and your eyes might be hurting after a day or two of driving in the area.
There are also tons of resorts - big and small, where you can try some seriously fresh seafood that might be caught right off the dock.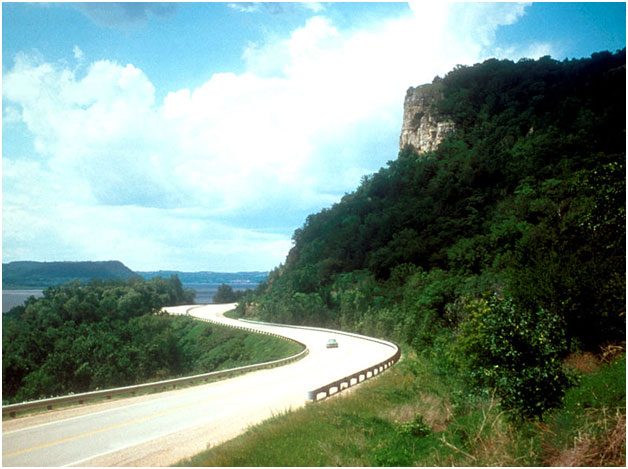 Image Source: U.S. Government, Public domain, via Wikimedia Commons
Great River Road
The Great River Road Scenic Byway follows the course of the Mississippi River for 1400 miles from northern Minnesota to the Gulf of Mexico. You'll pass through 10 states and hundreds of river towns. You can explore historic St Paul, Minnesota in the Twin Cities area with Minneapolis and cross into LaCrosse, Wisconsin, then head south a bit to reach Galena, Illinois which is home to dozens of wineries and historic downtown. Make your way west a bit and you'll find the Gateway Arch in St Louis. While it's a little out of your way, if you love music you'll want to cross into Tennessee and visit Nashville's Country Music Hall of Fame.
Keep going south to near the end of the Great River Road and you'll find the Cajun influence of New Orleans, complete with excellent seafood and so much history - in addition to jazz of course.
You'll note that, unlike previous trips, we just mentioned a lot of states. The Great River Road is quite long and passes through 10 states in the heart of the United States - it'll take you about 36 hours of driving to get through all of it, so we suggest you take your time and absorb all of it!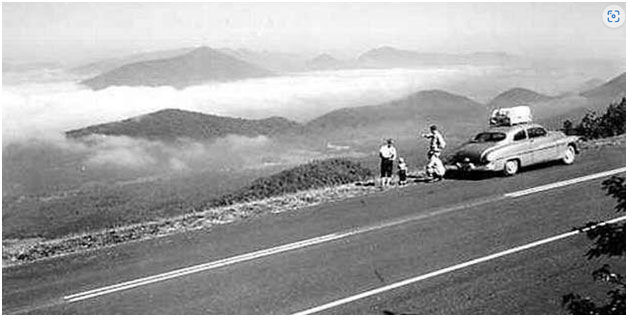 Image by National Parks Gallery, public domain
Blue Ridge Parkway
If you are outdoorsy and want a place where you can literally slow down, the Blue Ridge Parkway is an excellent choice. You'll find yourself in the Appalachian Mountains and often traveling literally a little slower than normal as the speed limit in the parkway is 45 miles per hour.
The Blue Ridge Parkway has you winding through Shenandoah National Park and through the natural beauty of the southeast. This is an overall excellent place to go camping, glamping, or using an RV to tow your classic car - or in some cases, the other way around.
We will advise you on one thing: The driving is literally a bit mountainous - make sure your brakes and tires are ready for this trip.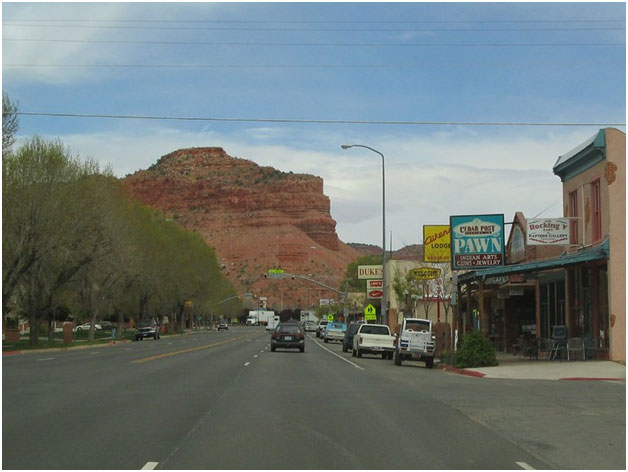 The Grand Circle
Taken literally, the Grand Circle is not quite a circle, but a great loop to travel on when visiting the west and southwest that takes you through several of America's most beautiful national parks. While you can start just about anywhere you want, you'll find that the "trail" takes you through Zion National Park in southern Utah in addition to Grand Canyon National Park in Arizona. Another very cool place to visit on this particular trip is Petrified Forest National Park in Arizona too.
One of the better parts about traveling through several national parks is the ability to find a camping place for relatively cheap - and a good parking lot for your classic car!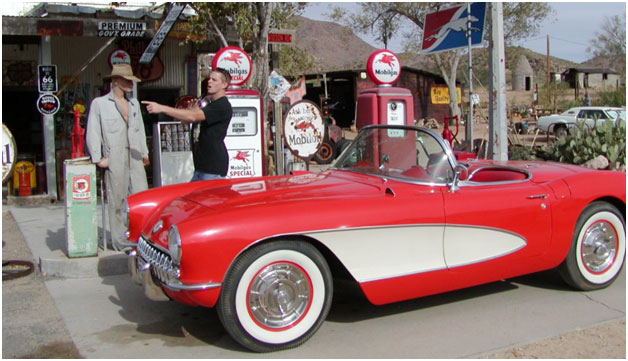 Image source:The U.S. National Archives, public domain
Route 66
Spanning from Chicago, Illinois to Santa Monica, California, Route 66 is one of America's most famous road trips simply because the route was built before the 1930s, so many drivers took it in their own classic cars generations ago. Route 66 is famous for having many roadside diners and attractions at one point - and it is still relatively well known for that. Part of the reason for the number of stops is that at one point, travelers taking their pilgrimage to the Grand Canyon or Disneyland found that Route 66 was the easiest and most direct route available at the time.
You'll experience the real nostalgia of owning a classic car on this route, as many of the vehicles that spent days on it in the 1930s and 1940s are definitely classics today.
Conclusion
A classic car road trip is a great time to explore some historical and beautiful parts of America. There are many routes you could take, and thanks to a very developed highway system, a mostly comfortable ride to keep your classic car humming right along. We suggest planning out your own classic car road trip to take you to parts of America that were new when your classic car first left the factory.
Sources
1. Lonely Planet: https://www.lonelyplanet.com/articles/usa-best-road-trips
2. Car and Driver: https://www.caranddriver.com/features/g31980744/12-of-the-best-american-roads/
3. AFAR Magazine: https://www.afar.com/magazine/best-road-trips-in-the-us-to-take
4. Time Out: https://www.timeout.com/usa/things-to-do/best-us-road-trips
5. Condé Nast Traveler: https://www.cntraveler.com/galleries/2015-04-27/six-iconic-american-road-trips-to-take-this-summer
6. National Geographic: https://www.nationalgeographic.com/travel/lists/transportation/american-road-trips/
7. The Telegraph: https://www.telegraph.co.uk/travel/trips-of-a-lifetime/best-america-road-trips-driving-routes/
8. Travel + Leisure: https://www.travelandleisure.com/trip-ideas/road-trips/best-east-coast-road-trips
9. USA Today: https://www.usatoday.com/story/travel/destinations/10greatplaces/2014/06/05/best-us-road-trips/9958951/