If you're new to the world of classic automobiles, you might not be familiar with the term 'matching number' or 'number matching'. Knowing the meaning of this phrase may influence the amount that a buyer is willing to pay for your classic automobile, or, just as importantly, how much you're willing to spend on a classic vehicle.
Ultimately, number matching is important because it doesn't just influence the value of your vehicle, but also its collectability and rarity.
The Definition
Matching numbers refers to the number of parts that a vehicle was originally manufactured with. Keep in mind that this definition may change depending on who you ask. All parts are considered during an inspection for a matching numbers vehicle. This includes major components such as the engine and even seemingly insignificant parts such as nuts and bolts.
Though this may sound simple enough, it really can be quite challenging to find a true matching numbers classic automobile. The longer you keep a car the more likely you'll have to repair or outright replace a failing part or two.
Even the most hardcore classic auto collectors recognize how impractical it can be to find a vehicle that still maintains 100% of its original parts. Therefore many collectors find it acceptable if all of the components on a vehicle are from the original assembly line, even if a few parts had to be swapped out at some point. It's also acceptable for vehicles to have 'like new' stock parts.
Often times factories have extra parts lying around and end up sending them to a warehouse to be inventoried. These parts can then be ordered by a dealership when needed.
In most cases, those who use the term 'matching numbers' are referring to the fact that the transmission and the engine have the same sequence numbers as the VIN (vehicle identification number) assigned to the chassis. Keep in mind that the casting number, rear axle, and differential date code must also belong to the vehicle.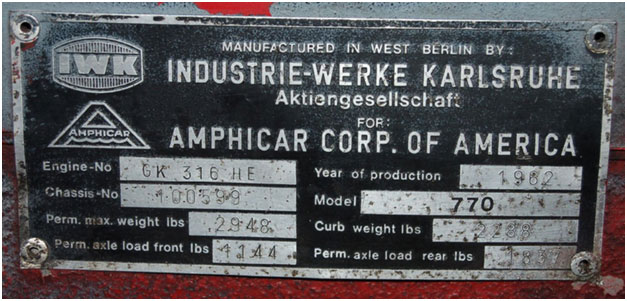 VINs and their importance
The vehicle identification number is very important when determining when a vehicle was manufactured. Today, VIN numbers are often easy to find because they're mostly located in the same area in most vehicles -- the inside of the driver's side windshield.
American auto makers began using VIN numbers in the mid-1950s to properly identify and describe a vehicle and its parts. As automobiles were mass produced, VIN numbers were used more and more.
Back during those times, every manufacturer utilized their own variations. For example, Ford would have a different VIN number variation than General Motors. Therefore, if you're familiar with each of the VIN variation types, you should be able to easily identify the manufacturer.
At one point factories began labeling every single one of its parts with VIN numbers. This helps the manufacturing process along greatly. As you can very well imagine, some vehicles had longer build sheets than others.
You can use VIN numbers to identify whether or not a particular component of a classic automobile is actually an original part. There are a number of essential parts of a vehicle you should check for a VIN number:
Ignition distributor
Alternator
Generator
Transmission
Engine
Rear axle
Cylinder heads
Water pump
Do your research
Classic automobiles aren't like today's vehicles. They generally lack uniformity which makes them unique, but might present problems when you're trying to figure out if the vehicle is 100% original. You can visit Leland-West – a Classic Car Insurance company to learn more about your classic car.
When it comes to investigating a matching numbers automobile, you have to identify the numbers that you need to verify and then you have to figure out where they're located on the vehicle.
This will take some digging and likely hours of online research. If you have the cash, bringing along a pro who knows what to look for can save you hours of searching. If you're not interested in bringing someone along with you, they could always show you where to look, but nothing beats having a professional doing the heavy lifting for you.
You can always look online for the information that you need, but there are also car clubs that focus on a specific makes and models of specific vehicles. If you present yourself in a friendly way, you should be able to get the information that you seek from one of the members.
Why doing the research matters
Calculating the numbers and doing the research is indeed very important if you're looking to get the best price for the vehicle. Typically, the more original the vehicle, the more valuable it is. It can be difficult to determine the market value of a classic car, but it certainly helps if you can prove its originality.
So yes, doing the research and determining how original the number matching vehicle is completely matters when it comes to getting the most money during a sale. Keep that in mind, and you might just be surprised at the value of your vehicle.
Agreed Value Auto Insurance
When it comes to insuring a classic car, we say agreed value auto insurance is your best option. This type of policy is only offered by specialist auto insurance companies because we know it makes sense for classic car owners. Rather than actual cash value, agreed value auto insurance will make sure you don't have to negotiate the payout from your insurer when making a claim.
Popular Questions:
What does stated value mean?
Is Agreed value worth it?​
Featured Image Credit: Rex Gray / Wikipedia
In Post Image Credit: Joe Ross / flickr