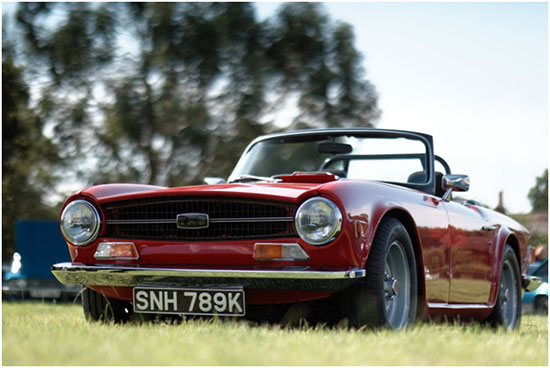 4 Collector Cars to watch in 2019
Becoming a collector isn't something many car enthusiasts set out to do. It usually just sort of happens. You fall in love with one vehicle, and you want to get it a friend, then they need someone to honk at together -before you know it you're researching rental garage space around town. They say that once you skip past three and into four of something you have begun a collection. At 4 or 5 vehicles many start to branch out and broaden their collection- This is also where collectors let themselves get a little impulsive.
If you found yourself clicking onto this page looking for that fourth or fifth vehicle well, then you are in good company. 2019 is shaping up to be a great year for more unique and diverse finds. You will find on our curated list a selection of some of the more interesting classical cars being sold that will give you a beautiful and unique driving experience, those moments we are all looking for, and won't set you back very far in your account. While you won't be able to afford these cars flipping burgers, you also won't have to be holed up in a mountain lair with a helipad.
A note
Every real collector knows you need a place to maintain and preserve your vehicles; lawn carcasses are a sad end for any car. Make sure you don't bite off more than you can chew and find yourself either with a deteriorating vehicle or one you have to resell immediately for lack of space.
Table of Contents
---
---
1979-1985 Mazda RX-7
When the '70s were wrapping up a whole new bevy of safety and emission regulations were put into place and the roadsters of the time were not having an easy go of it adapting. The RX-7 was the first rotary-powered coup to catch on in the new market.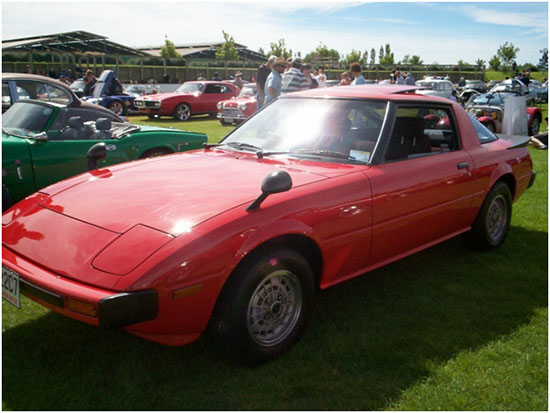 Image Attribution: https://upload.wikimedia.org/wikipedia/commons/2/27/1979_Mazda_RX-7_%285889926505%29.jpg
In 2004, Sports Car International ranked this Mazda seventh on their Top Sports Cars of the 1970s list.
The lead designer for Mazda in that era was Matasaburo Maeda (his son designed the RX-8) he helped to transition the company into the sports car arena. Matasaburo kept the focus on the RX-7 on minimizing size and weight, allowing the compact rotary engine to be placed behind the rear front axle. This led to a beautiful result of improving both the speed and balance of the vehicle. You may come to find yourself loving the tiny unique quirks of this rotary
The RX-7 comes in around 2350 pounds and came with a 1.1-liter engine that hit 100 hp and 105 lb-ft of torque. That combination was enough to reach 60 mph in under ten seconds -solid for the time. The sales of the first-generation RX-7's were good. Over 470,000 were produced, and over 375,000 were eventually sold in the United States.
In 1982 Motor Trend compared the RX-7 to a Nissan 280ZX and Toyota Supra. The Mazda came out on top in handling, steering, enjoyment, and "sportiness".
RX-7 First Generation (SA22C) Engines:
---
In 1985 Mazda came out with the the limited edition RX-7 Finale to the Australian public. The car also had a brass plaque with its release number and the quote: "Last of a legend."
---
By the time you get to the Series 3 (1984–1985), you will see both the GSL and GSL-SE package being offered. North America is the only market to have gotten the RX-7 with the fuel-injected 13B, model GSL-SE.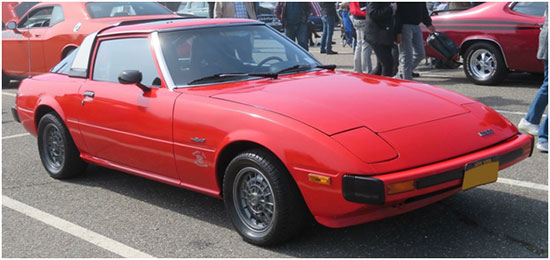 Image Attribution: https://commons.wikimedia.org/wiki/Category:Mazda_RX-7_(FB/SA)#/media/File:1979_Mazda_RX-7_front_4.28.18.jpg
The 1984 RX-7 GSL gets around 30 mpg on the highway and can accelerate 0 to 50 in 6.3 seconds.
The 1985 RX-7 Finale was released in Australia and only a limited number were made. In addition to the power options and some minor cosmetic changes, the car also had a brass plaque with it's the serial number and the quote: "Last of a legend."
A great piece of 70's engineering and history you can still make use of today.
Fiat X1/9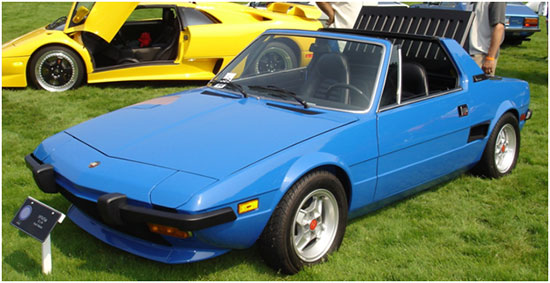 Image Attribution: https://upload.wikimedia.org/wikipedia/commons/a/a6/1974_FiatX1.9.jpg
The Fiat's X1/9 is a mid-engined Italian sports car envisioned by a celebrated design house. A rare case of someone getting something right on the first go. The X1/9 remained relatively unchanged for almost two decades following its release in 1972. It was one of the earlier mid-engine production sport vehicles and has since become one of the most enduring of its age. It is underrated for its ability to bring you an authentic vintage European sports car experience, at a very reasonable entry cost.
The Fiat X1/9 is a very stiff vehicle since it had to accommodate new safety regulations. The result is a heavy and safe sports car for the era that can handle a larger engine for its size. It is a tiny car that requires a bit of maneuvering to get into, though once you are inside, there is plenty of legroom. Fiat's initial front-drive 128, made in 1969, was initially found in the sedan.
Engine
Layout
Transverse mid-engine, rear-wheel drive
Production 1972–1989
140,500 produced (Fiat)
19,500 (Bertone)
The acceleration and top speed are nothing to write home about, but the weight distribution and handling has been beloved by fans of the Fiat X1/9 for decades now.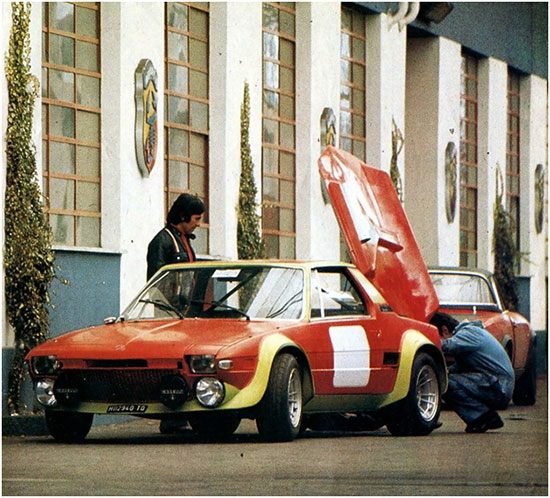 Image Attribution: https://commons.wikimedia.org/wiki/Category:Fiat_X1/9#/media/File:1974_Fiat_Abarth_X1-9_Prototipo.jpg
Inexpensive to maintain, full of character, great to drive!
All in all, this is an excellent find for those looking get their hands on a classic Italian Sports Car. Good X1/9's are still pretty easy to find if you look. The same goes for spare parts.
IKA-Renault Torino

Image Attribution: https://upload.wikimedia.org/wikipedia/commons/1/1a/IKA_Torino_380_coup%C3%A9.jpg
The IKA Torino, later named the Renault Torino (IKA was bought out by Renault in 1975), is a mid-sized vehicle made by Industrias Kaiser Argentina (IKA) under an agreement with American Motors Corporation (AMC) in 1966. They wished to make a car that combined "combined American ruggedness and European style." it was made in both two-door hardtop and 4-door sedan variants and production continued until 1981. The IKA-Renault Torino has been called Argentina's national car.
From 1970 until 1976 the Torino was touted as a luxury vehicle. This marketing drive led to some notorious and famous owners including Fidel Castro, Leonid Brezhnev (The fifth leader of the Soviet Union), Muammar al-Gaddafi and Juan Manuel Fangio (an Argentine driver who dominated the first decade of Formula One) — making this a real historical collector's piece.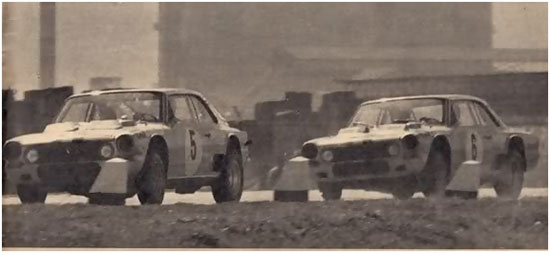 Image Attribution: https://commons.wikimedia.org/wiki/File:Alberto_Rodr%C3%ADguez_Larreta_y_Eduardo_Rodr%C3%ADguez_Canedo_1967.jpg
The Torino hit the stage at the Municipal Racing Circuit of Buenos Aires in November of 1966 and was first available as the Torino 380 W. The Torino 380 W produced 176 hp and came with Weber two-barrel carburetors, a floor mounted four-speed shift and an electronic wooden instrument panel. There were also leather accouterments making it a unique hybrid of features at the time.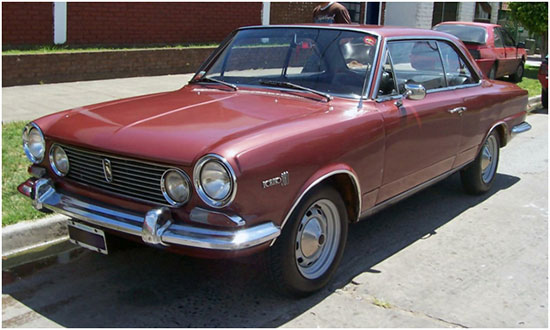 Image Attribution: https://upload.wikimedia.org/wikipedia/commons/1/1a/IKA_Torino_380_coup%C3%A9.jpg
---
In the '70s the Torino was a popular luxury vehicle. Famous owners included dictators such as Fidel Castro and Muammar al-Gaddafi. Making this a real historical collector's piece.
---
Italian auto stylists designed the lines of the car at Pininfarina since the Argentinian buyers were more partial to European rather than American design. The car's badge is the city of Turin's coat of arms, a prancing bull, and is purposefully reminiscent of the Ferrari stallion.
Engine (All Argentina Built)
Layout
Front-engine, rear-wheel-drive layout
Production
1966–1981 | Santa Isabel, Córdoba Province
In the 84-hour race in Nürburgring, Germany the No. 3 Torino covered the most laps of any competitor. Though they came in third due to time violations accrued, the Torino proved it had the gumption to take on the European vehicles. Afterward, the Torino became "the pride and joy of Argentine car enthusiasts" That no. 3 car is now on display in a museum in Argentina. Still today many Argentines love the Torino, and it has remained popular enough to ensure that you have can find parts and advice pretty readily.
Triumph TR6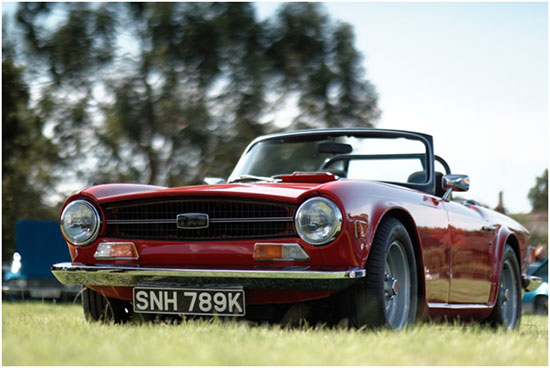 Image Attribution: https://www.flickr.com/photos/pyntofmyld/23849466613/
The Triumph TR6 was produced from 1968 until 1976 and was in its time the most successful of the TR range of sports cars. The British Triumph Motor Company produced 91,850 TR6s and exported of 80,000 of those. It ranked as one of the most famous British cars for everyday transport.
The TR6 sports a manual 4-speed transmission and an optional electrically switched overdrive, independent rear suspension, bucket seats and a walnut veneer dashboard to start. From the TR5 to the TR6 an anti-roll bar and wider wheels were added making the car look lower and leaner. There was an optional hardtop that required two or more people to take on and off. (I recall watching my father's TR6 hardtop swaying widely from atop our family garage during an earthquake in California!)
A UK version of the TR6PI was noted in Autocar magazine with the ability to go from zero to 60 mph in 8.2 seconds with a top speed of 120 mph.
Engine
Layout
Front-engine, rear-wheel-drive layout
Production
1968 – 1976 | Coventry, England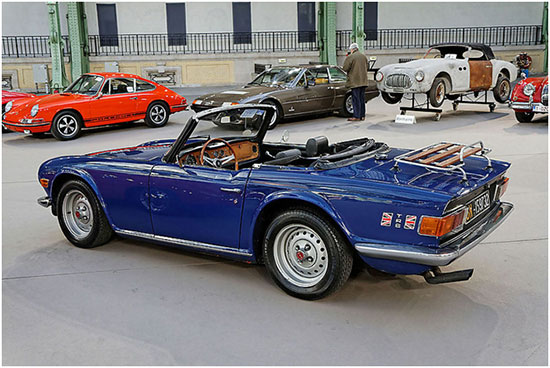 Image Attribution: https://commons.wikimedia.org/wiki/File:Paris_-_Bonhams_2014_-_Triumph_TR6_Roadster_-_1974_-_004.jpg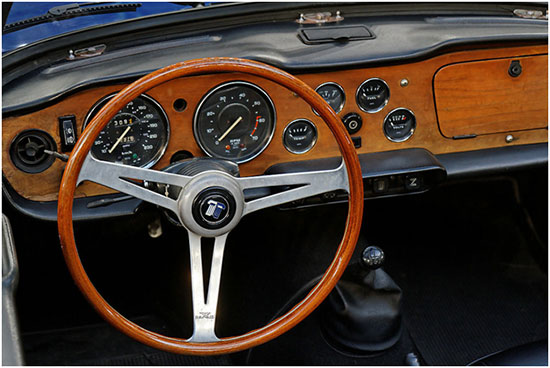 Image Attribution: https://commons.wikimedia.org/wiki/File:Paris_-_Bonhams_2014_-_Triumph_TR6_Roadster_-_1974_-_005.jpg
Triumph's 2.5-liter straight-6 powered all of the TR6s. This was an evolution of the standard wet liner inline-four engine. Interestingly this 2,088 cc inline four-cylinder petrol engine was developed for the Ferguson TE20 tractor.
In general, the TR6 drivetrain is pretty stable and there are plenty of mechanical parts available for the TR6, from numerous suppliers. These British engines can be very temperamental though once one aspect starts showing signs of its age. Don't let any problems linger or you can find yourself back in the shop again and again.
Car Insurance For Classic Cars
If you've recently bought a classic car, it's important to get it insured straight away. Car insurance for classic cars is different from regular insurance both in price and what it covers, making it perfectly suited to collectible cars bought as investments or showpieces. For that reason, car insurance for classic cars will depend on what you intend to use the vehicle for.
Popular Questions:
How does classic car insurance work?
What is the best insurance for classic cars?