Vintage Car Insurance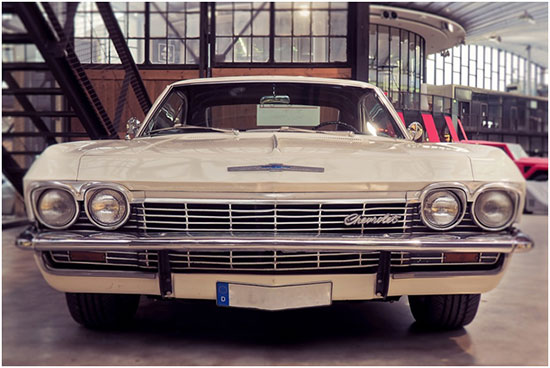 Sometimes we hit a point in life where we have to let go of the things that we cherish. Whether your decision was motivated due to financial reasons, lack of time, or even lack of motivation it's always hard to let go of a prized possession.
If you've ever sold a vintage car that you deeply cared about, then you know exactly what we're talking about. For many car enthusiasts parting with a vintage vehicle that they've owned for years can feel very much like parting with an old friend.
Thankfully there are several ways you can go about finding your old car even if you sold it many years ago.
Search using the former VIN Number
One of the first steps you should take when tracking down your old car is to us the former VIN number (Vehicle Identification Number) associated with the vehicle. Many online databases will accept your VIN as a valid search parameter, and frankly, if you have this information, there's an excellent chance you'll find the vehicle you're searching for.
Sites such as Lost Car Registry are perfect for reconnecting with old vehicles. The site is free and simple to use. Be mindful that VIN numbers before 1981 may not come in the 17 character format common for standard VINS. If that's the case, you may run into possible issues during your search.
What should you if your initial search doesn't turn up your old VIN?
Simply put, finding your old VIN number is the best shot you have at reconnecting with your old vehicle without turning to other useful, yet less effective tactics. If your initial search doesn't turn up the VIN number than we recommend you search through old files.
Search through old repair invoices, vintage car insurance policies, and accident reports. VIN numbers are commonly listed on auto-related paperwork.
If you're thinking of turning to the DMV, prepare to be disappointed. The Driver's Privacy Protection Act (DPPA) prohibits the DMV from releasing personal information about a driver to any unauthorized individual.
DPPA was the government's response to instances in which stalkers would find the location of their victims by requesting their information through the DMV. Digging through your old paperwork is your best option when it comes to finding your old VIN number.
Trace the Person who you Sold the Car to
One of the easiest ways to find an old vehicle is to contact the person who you sold it to in the first place. If you happen to have their old contact information your job will be that much easier. However, if that information is no longer available (or if they changed their phone number or moved to a new address) turn to other methods of contact such as social media or email.
Turning to Search Engines
If your VIN number comes up during your search one of the first things you should do is whip out your phone and run it through a Google search (or any other search engine of your choosing). If your old vehicle has been listed online for sale or if it's being auctioned off then there's a good chance it'll pop up.
If your search comes up fruitless try searching the databases of the larger auction houses such as Gooding & Company and Mecum. Vehicles available for auction should have all of its background information available for potential buyers.
Turn to Social Media
Never underestimate the power of social media. Put your message out there and see what happens. You never know who will read your post (especially if it's shared by multiple readers). If you want people to share and read your post, then you should keep your message short and concise.
Tell your story, share as much information as you can about the vehicle, and make sure to leave contact information. While there's certainly no guarantee you'll find your vehicle through a social media post you never know how many people you'll reach. You certainly have nothing to lose by trying!
Take your Case to Forums that Specialize in Classic Cars
If anyone can help you find leads on your long lost vintage car than it's going to be the type of folks who hang out in automotive forums that specialize in classic cars. While many of these individuals may not know where your vehicle is personally, they may be able to point you in the right direction.
The classic automotive community is a small, tight-knit group. There's a possibility that your vehicle may be floating around somewhere in this community, so it certainly doesn't hurt to appeal to the enthusiasts.
Another benefit of visiting an automotive forum is that the members will likely give you all kinds of tips on how you should hunt down your vehicle. Many members have likely been in similar situations and may be able to offer some advice on how you should proceed.
Don't worry, classic car enthusiasts are some of the friendliest people you'll ever meet. They know the plight of someone who's desperately trying to hunt down an old vehicle and will likely go out of their way to offer some great advice!
Persistence is Key
It may sound cliché, but finding a long lost takes persistence. Don't give up if the initial search doesn't turn up the VIN number. Turn to the online community to see what may turn up. You never know – it may take more than a year before the right person sees your social media post or forum inquiry and reach out to you with information that will reunite you with your old ride.
Do you own a vintage vehicle? Then it's vital that you invest in classic car insurance. Leland West has been around for more than twenty years and provides classic insurance for a wide range of classic cars, replicas, specialty vehicles and much more. Don't be caught on the road without the right type of coverage. Contact us today to learn more about how we can help you.
Featured Image Credit: MichaelGaida / Pixabay